Included here is a list of recommended reading on poverty, youth empowerment and training, relationship-based healing and on faith and the faith journey.
We sincerely hope this literature helps inform you. They have renewed our minds and stirred our hearts.
Recommended Reading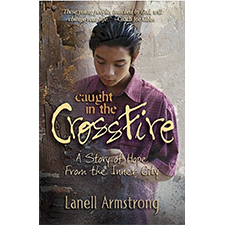 Caught in the Crossfire
Lanell Armstrong
This book is her story of how an extraordinary God can apprehend the hearts of ordinary people to accomplish His purposes and advance His kingdom in the middle of a tumultuous, gang infested inner city neighborhood.
When unconditional love is extended to kids suffocating in poverty, gangs, drugs, addiction, violence, and hopelessness lives are changed forever.
Learn About Our Everyday Lives
Sometimes it is hard to explain in just a few words what being in the Crossfire family is all about. Our blog has more stories. Read the Blog
Find Out How You Can Get Involved
There are several ways to help out Crossfire, be it through your mentorship, financial assistance and advocacy of our cause. Get Involved